If you are new to wearing a kilt Jacket and don't know how to wear it then this guide is going to help you for sure. There are lots of people who are confused about wearing the right kind of kilt jacket. Usually, there are two options to select from the Kilt jackets where one is Prince Charlie Jacket & Waistcoat and the other is Argyll Kilt Jacket.
Most of the times, wearing the kilt jacket depends on the occasion and nature of the gathering. Like wearing a Prince Charlie Jacket & waistcoat is perfect for formal and evening events. Whereas, Argyll Jacket is perfect for casual events or daytime events. In order to talk more about the rules, let's head to the article.
How to Wear Kilt Jackets?
So I will be talking about each kilt jacket one by one and discussing their rules for your better understanding.
Prince Charlie Jacket & Waistcoat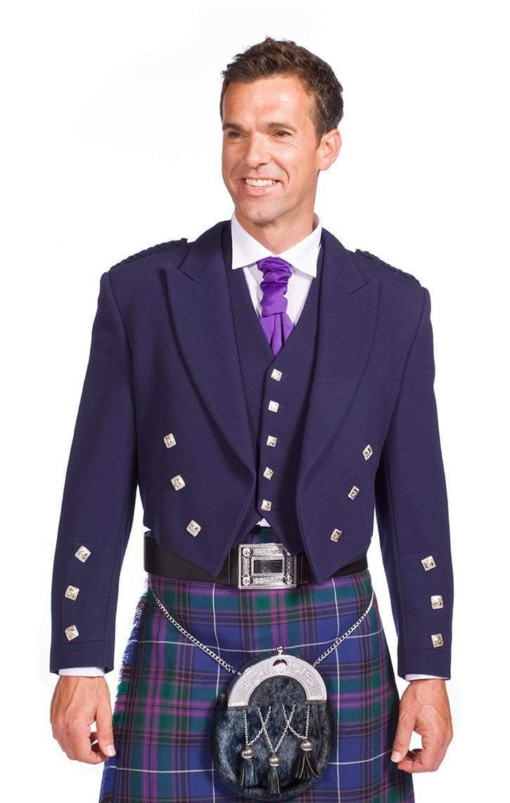 If you are deciding to wear Prince Charlie Jacket and Waistcoat then make sure that you are wearing it on evening formal events such as formal dinners and weddings. It is an appropriate Jacket to be worn on black tie events.
As far pairing is concerned, you may pair it with a Wing Collar Shirt along with either a black satin or tartan bow tie. It has longer back tan front. There are 3 non-fastening silver buttons on each side which serves the decorative purpose. There are three fastening buttons on the waist.
You can wear this Prince Charlie Jacket and waistcoat with any of your tartan for formal events.
Black Argyll Jacket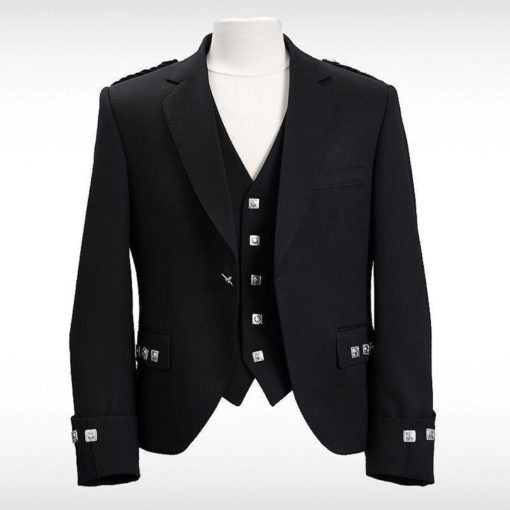 Black Argyll Jacket is perfect for casual daytime events. You can wear this jacket on all-day wedding as well.
As far pairing of this jacket is concerned, I would recommend you to wear it with a standard collar shirt and a plain colored or tartan tie which may match your man kilt or tartan trousers. You can also wear a semi-dress sporran along with a five-button waistcoat in order to make a semi-formal outfit.
Tweed Kilt Jacket and Waistcoat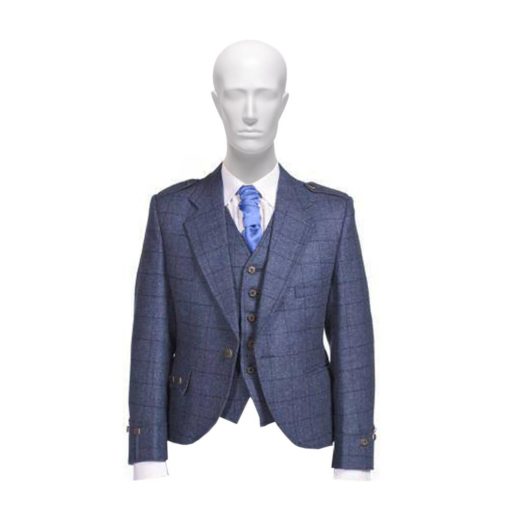 You can have your Argyll Jacket designed in any of the tweed colors available on Kilt & Jacks. The Tweed Kilt Jacket and Waistcoat is also for the more casual daytime events that can be paired with any tartan of your choice.
Tartan Argyll Jacket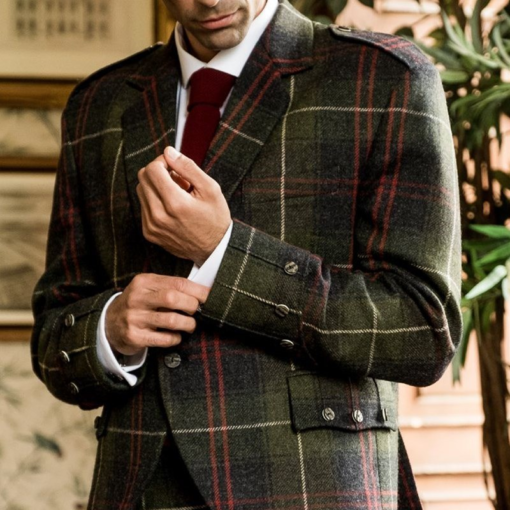 Tartan Argyll Jacket is another contemporary style of kilt jackets. You may choose any tartan from our collection to get a Tartan plaid Jacket for yourself. I would recommend you to use the exact same fabric of your kilt so that the whole outfit looks perfect and complement each other. Kilt and Jacks has a good collection of tartan Argyll Jacket for yourself.
Conclusion
So this was my whole guide on wearing a Kilt Jacket and I am sure you must have found it helpful and worth reading. If you have any views about this tutorial then feel free to share your views in the comment section. Don't forget to share this with others.