Kilt Jacket is one of the most integral parts of a perfect Scottish Kilt-outfit. You have to make sure that your kilt jacket goes perfectly with your overall outfit so that it doesn't look off with your men's kilt. The most difficult thing is that there are tons of options available in kilt-jackets which makes the art of selecting the right one difficult.
Therefore, I am writing a detailed guide on Kilt Jackets which will help you choose the right kind of jacket for yourself that would match your overall kilt-outfit. This is the most straight-forward kilt jacket buyer's guide you will come across on the internet.
Kilt Jacket Buyer's Guide
There are various Kilt Jackets that we sell which include; Argyle Jacket, Prince Charlie Jacket, Doublets, and Tweed Jackets. All of these jackets can go perfectly with your kilt.
Prince Charlie Jacket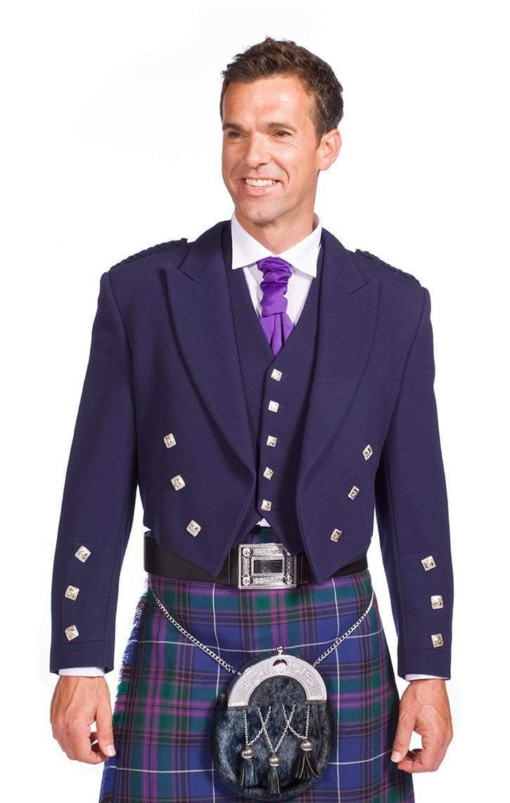 Prince Charlie Jacket is worn when you are going out for a most formal meet. It is the Scottish alternative of a black-tie outfit.
The Prince Charlie Kilt Jacket is worn with a wing-collar shirt and a bow tie. You can also wear it with a Victorian collar shirt and ruched tie for modern look.
Usually, it is made from a 15oz heavy worsted pure wool fabric which is also known as barathea. It is decorated with ornate buttons on the front, sleeves, and tails. Some of the Prince Charlie Jacket comes with satin lapels and silk braided epaulets: these are worn on special occasions like weddings and other formal dinners.
Prince Charlie jacket is also worn with a three or five buttons waistcoat. The waistcoat is usually decorated with the same ornate buttons and satin lapels.
At the end, you may also wear a full dress sporran with your entire outfit so that your Scottish look can be completed.
Argyle Jacket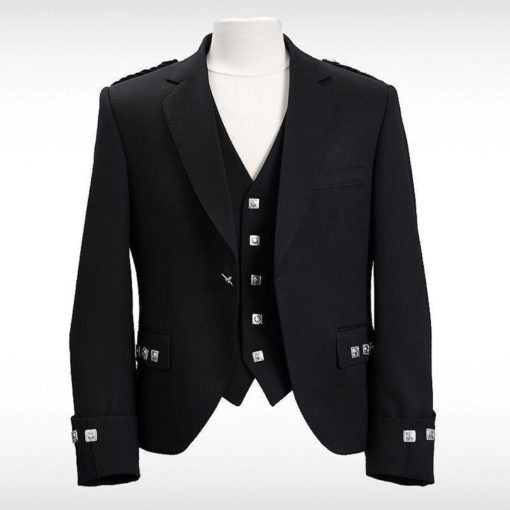 Argyll Jacket is another most famous Scottish Kilt Jacket. They are less formal as compared to Prince Charlie Jacket; however, they can still be worn on formal and casual events. Argyle Jacket is formal but not too formal; although, you may wear an Argyle Jacket at weddings.
Argyle Jacket is also made up of wool. It is also decorated with polished buttons on cuffs, pocket flaps and gauntlets. The lapels and epaulettes are made from the jacket material. However, we also made the braided epaulette.
You can also pair your Argyle Jacket with either a 3-button or 5-button vest. It is also worn with a standard collar shirt and a regular necktie.
If you are wearing the Argyle Jacket on formal event then I would recommend you wearing it with a five button waistcoat along with a Victorian Collar shirt and a ruched tie.
At the end, you can wear either a semi dress sporrans or a full dress sporran for formal functions. If you are going out for a casual event then you may wear a leather sporran.
Doublet Jacket
Doublet Jacket is another type of jacket that we sell. These are the jackets mostly worn by the bagpipers who are supposed to play the bagpipes. However, there are various awesome jackets include; Fancy Doublets, Piper Doublets, Montrose Jackets.
You can wear Montrose Jackets on formal events; however, they are less formal as compared to Prince Charlie Jacket. You can pair these jacket with any of your jacket. You can pair a dress sporran along with your jacket. Overall, It is designed for the formal events.
Contemporary Style Kilt Jacket
Tweed Jacket
Tweed Jacket is another addition to our collection. We have tweed Jackets made in the style of both Prince Charlie Jacket and Argyle Jacket. Moreover, there are also some contemporary styles of tweed jackets that can be paired with kilts.
Tartan Plaid Jackets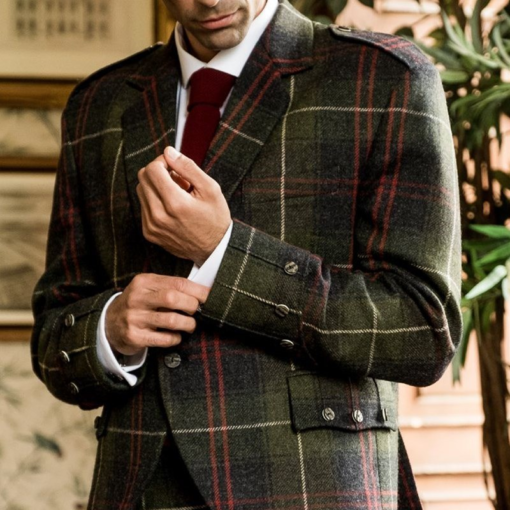 Tartan Plaid Jacket is another addition to our contemporary kilt jacket collection. You can select any tartan and have this jacket made in any kilt jacket style. As far the styling is concerned, you may follow the same styling tips as shared above.
Conclusion
So this was the Kilt Jacket Buyer's guide and I am sure you must have got the clear idea about it. I have tried to cover all the details so that you can make an informed decision about buying a perfect kilt jacket for yourself. If you would like to add your views and suggestion related to the guide then feel free to write to share your views in the comment's section.