We have received a lot of queries from our female customer base asking about the right ways of wearing a tartan. Therefore, in order to address this ones for all, I am writing a detailed guide for you guys.
There are various things that can be made up of tartans like tartan skirts, jackets, bags, sash, and various other clothing items. Some women wear tartans to represent their families and some are in love with particular patterns.
How do women actually wear tartans?
So let's get to the main part of this blog post where I will be sharing some of the common ways of women wearing a tartan.
Checkout: How to wear Tartan when you are not Scottish?
1- Tartan Short Skirts
One of the most loved and common way of wearing a tartan is going for a tartan short skirts. We endorse tartan skirts and they are perfect for semi-formal or business casual events, holiday parties and family get-together. You can dress up with a button-down or a sweater. You can also wear a belt in order to give it awesome look.
2- Wearing in Office!
You can wear tartans in your office in order to bring some color and positivity to your office. You can wear a nice button-down as a base layer for your tartan dress which will make your overall appearance less formal.
You can wear it whenever you want in meetings, presentations, or just another day in office.
3- Wear Dark Tartans in Fall
We would recommend you to wear darker or traditional tartan which can be paired with longer tartan skirts in the fall. I would recommend you to pair a classic blue and green tartan along with a nice sweater. It will give you an elegant look for winters.
4- Wear tartan Blazer
Another great way of wearing a tartan is as a blazer. You can wear any tartan blazer along with a dark jeans or pants which will give you a proper casual look.
5- Tartan Suit
If you want to adopt a casual look then you may also go with the tartan suit. You can wear a tartan blazer along with a matching suit pants that can go with a simple t-shirt or a v-neck. It is a perfect tartan outfit to wear to a concert or outdoor events.
6- Tartan Maxi Dresses
Wearing a tartan maxi dress is an ultimate fashion statement. If you want to put out the real impact then I would recommend you go with tartan maxi dresses. The choice of tartan may depend on the season, whether it is warm, fall, cool or summer days.
7- Tartan Business Suit
In case you want to wear tartan to the highly formal meetings then go with a tartan business suit. They look stunning on women. You can wear tartan business suits to the office or out for lunch with a client. You can pair your suit with a shirt and a bag.
8- Tartan Button Down
If you don't want to wear the full tartan suit or a blazer then you can go with a tartan button down and pair it with a decent blazer along with nice pair of business pants and heels. Overall, it will give you a pretty casual look.
9- Tartan Scarf for Winter
Another great fashion statement is wearing a tartan scarf for winters. It gives you an elegant cozy look in winters. You can wear a long sweater or jacket and a thick tartan scarf.
10- Tartan Shawl
If you want to carry even warmer look then you can go with a tartan shawl. You can wrap the shawl over your shoulder. You can also wear your shawl by wrapping it with a belt.
11- Tartan Coat
Wearing a tartan coat gives you an elegant look. It is ideal for cold winter days or afternoon in the snow.
12- Tartan Jumpsuits
It may sound odd to some of you by it is really fun to get a tartan jumpsuit. It gives you a unique style of sporting.
Women Wearing Tartan Tradition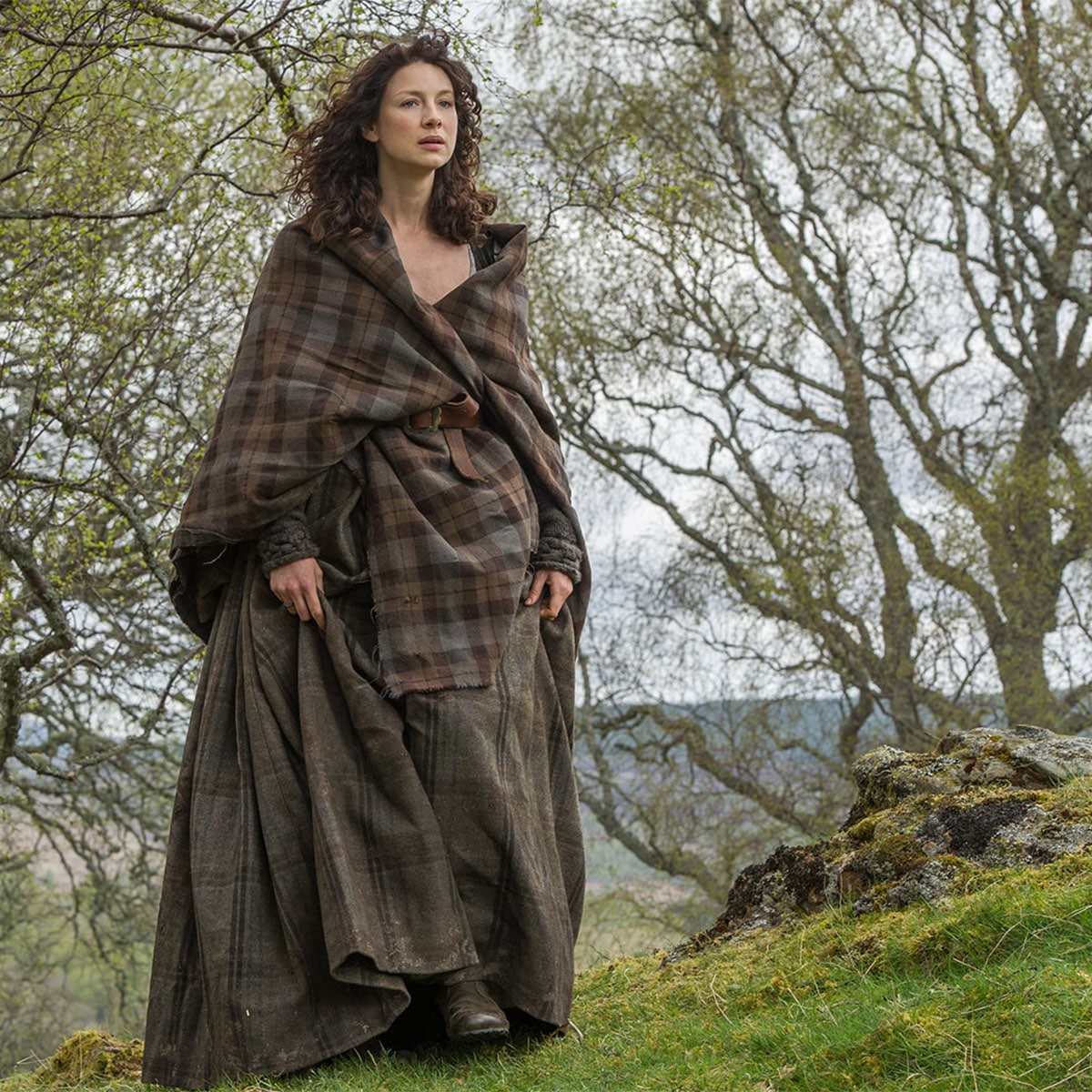 There are some traditional women's tartan-wearing practices. The traditional piece of Scottish women's wear is the earasaid which is also called arisaid in its Anglicized form. It is not necessary for an earasaid to have a tartan pattern, but it may have a tartan motif.
Earasaid is kind of a floor-length kilt that has a belt around the waist. The wearer can carry the material and wrap it around their shoulders and then pin it in front. Usually, women usually take the extra material around the shoulder in order to form a hood. It has the benefit of hiding the wearer.
It has also additional traditional values like covering-head for both married and unmarried women. These are not really common in Scotland nowadays.
Conclusion
So this was my detailed discussion on women wearing tartan. I hope you must have got a clear idea about it. We have lots of women's Scottish wear that you can buy or design for yourself.
Don't forget to share this with others who might be looking for the same. Keep visiting Kilt and Jack's blog for more such posts.