Haggis is one of the most popular Burns Night treats as the night is approaching there are lots of people who want to learn to make Chocolate Haggis. Therefore, I am sharing a guide with you about making the true Scottish dessert for you.
However, we are not taking the credits of the recipe as it is from Linda Frazier, a former President of the St Andrew's Society of Tallahassee. It is her style of making these amazing Chocolate Haggis. You are going to love what you are about to experience.
How to Make Chocolate Haggis?
Now without taking much of your time, let me get straight to the process of making this amazing Scottish delight.
Ingredients
2/3 cup of Sultanas (Approximately 50g)
3 table spoons of Scotch Whisky
7 Table spoons of unsalted Butter
A pinch of a salt.
7/8 cup of Cocoa Powder (Approximately 100g)
1 Egg
7/8 cup of Caster Sugar (Approximately 100g)
1 cup of Chopped up shortbread (Approximately 150g)
2/3 cup of Chopped Mixed Nuts (Approximately 50g)
Powdered sugar for the dust only.
Let's start Preparing!
Now without taking much of your time lets start the process of making the choco haggis and make your Burns Night complete.
First of all, you will need to place the sultanas and whisky in a small bowl and you are supposed to let it soak for a while.
Now you need to melt the butter in a pan and after then add cocoa powder then start stirring until it became like a smooth paste.
After that take another bowl where you need to whisk the sugar and egg together until you have a pale cream-like mixture.
Now you need to place the shortbread in a sealable plastic bag and then start bashing it with a rolling pin. Remember you are trying to get a perfect mixture of chunks and crumbs here.
Here you need to combine the chocolate mix with sugar/egg mix and then stir in the shortbread, chopped mixed nuts, and the whisky soaked sultanas along with the remaining whisky.
After that, you are supposed to lay out a double thickness plastic wrap and then tip the chocolate mixture out onto it to make sure you are shaping it like a haggis.
Roll up and continue to manipulate into shape by tying the knot at each end of the plastic wrap.
Let it chill in the fridge for the whole night. Once it is done then remove the plastic wrap and rub the outside with some powdered sugar.
Now make the slices and enjoy!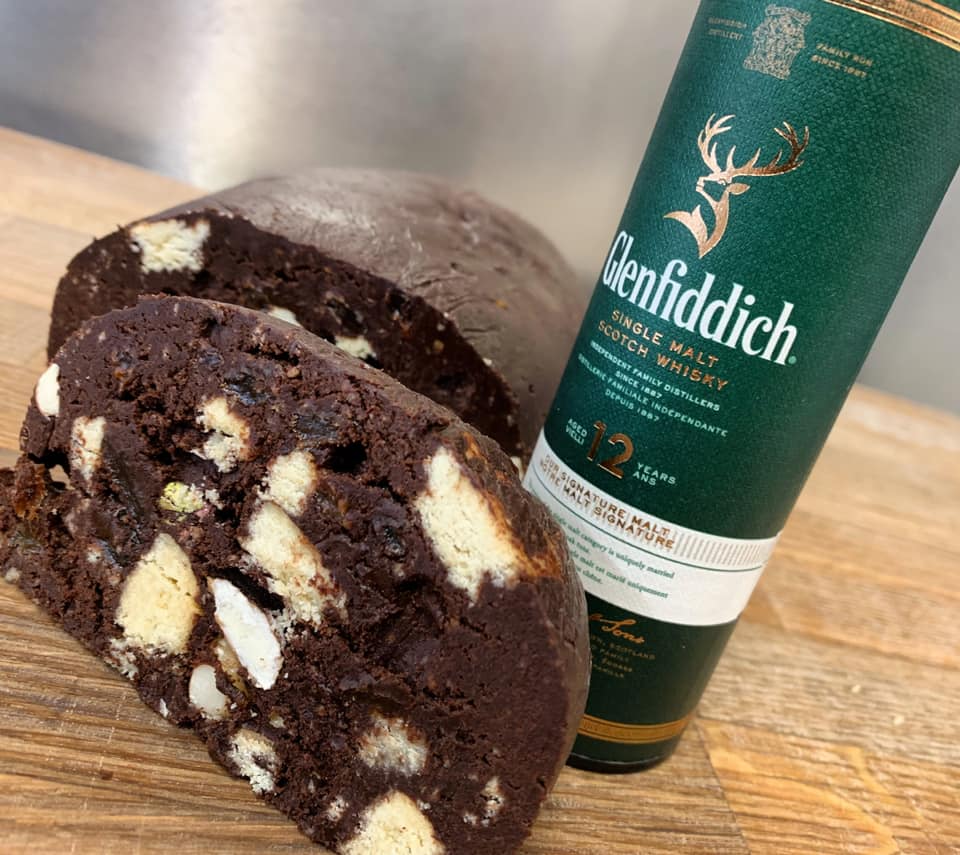 Conclusion
So this was the recipe of Chocolate Haggis to serve on Burns Night. I hope you must have loved the recipe. Don't forget to share your experience with us. We would love to share it with us.